While people can grow tired of their homes, and feel a sense of restlessness after living in the same surroundings day after day, moving house is not always an option. Facing this familiar scenario, this homeowner decided to call Mid Wales to take action and make some changes. The result? A brand-new beautiful orangery to revamp their living space. It's difficult to even tell that the new structure has been retro-fitted as it has been designed to match the existing house perfectly, and the installation team along with our special Golden Oak finish can be thanked for that. Choosing Golden Oak made perfect sense, as it matched the finish on the existing windows so well. We also worked hard to match the brickwork.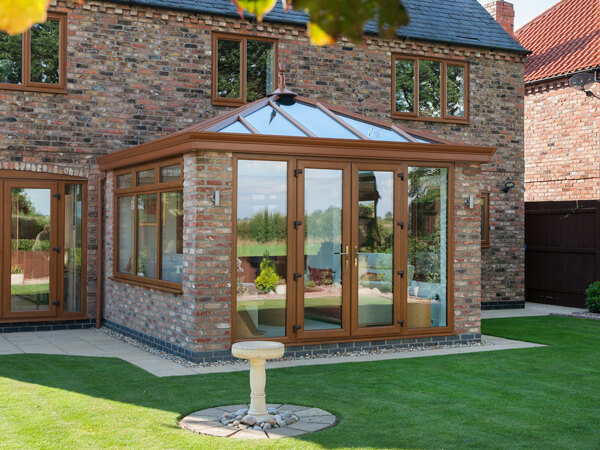 A lot of the time spent at home by the occupants is now in the orangery, but thanks to the front facing French doors, the garden is now a more central focal point of daily life too. The additional side panels help enhance the view seen from inside the orangery, while directly across from those another set of French doors can be found, providing another similar double opening, leading back into the house. The collection of window ledges provided plenty of space to add personal touches, with ornaments proudly lit up by the glow of spotlights fitted into the internal pelmet at night. The concealed guttering and piping, as well as the roof panelling and rooftop peak, have also been finished with luxurious layers Golden Oak.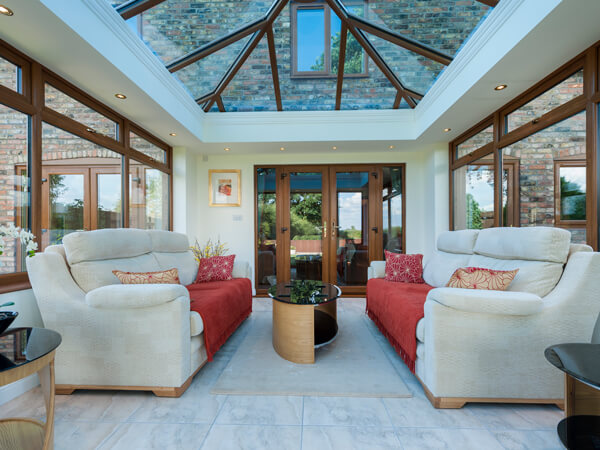 REQUEST YOUR FREE QUOTE
Simply fill in your details for your free, no obligation quotation, and click "Get Quote"
NEED MORE INSPIRATION? REQUEST A BROCHURE
Simply select the brochure(s) you would like to browse, fill in your details, and then click 'Download'.
INSPIRED? GET A FREE QUOTE TODAY!
Simply fill in your details for your free, no obligation quotation, and click "Get Quote"
Want to speak with an Advisor? Give us a call on 01686 628650
Our friendly team will be pleased to help with any questions you may have.