It's pretty unusual not to come across a set of French doors when invited into a continental home, and nothing should stop you from having your very own French doors. The generous double opening will prove a constant blessing when the weather is favourable and entices you to exchange indoor living for the outdoor equivalent. The glazed sections in a French door are always beautifully decorative and will also bring plenty of natural light indoors, despite often having very detailed patterning.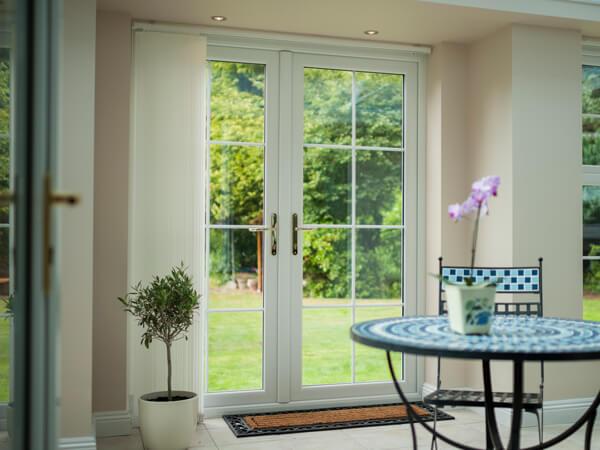 French doors offer homeowners many uses, including connecting your home to your garden or connecting two separate rooms, and that is why they can be now found all around homes. As with all of our doors, our French doors are guaranteed to improve your home's security and give you peace-of-mind for years to come. This combined with their incredible energy efficiency means French doors are a great way of improving your home's overall appearance and performance.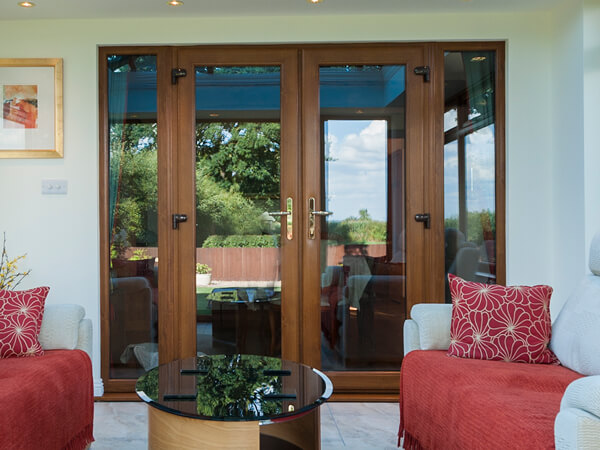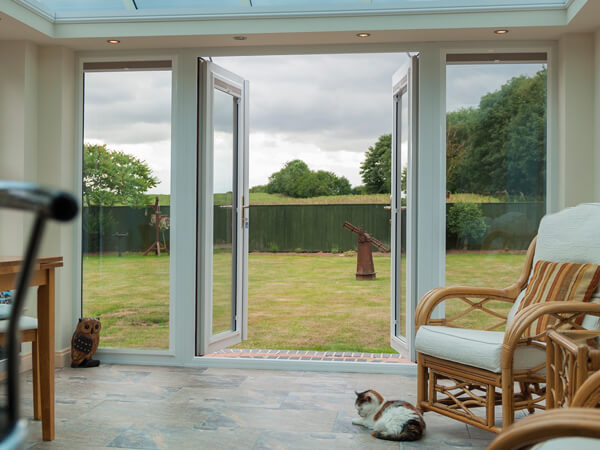 A CLASSIC OPENING
Does your home lack a bit of edginess and excitement? The installation of French doors will rectify that situation. They could be used as a way of connecting your home to your garden, or fitted between home and extension to turn them into two very individual locations. The double opening of a French door will give you the option of transferring furniture outside, or taking food outdoors when wanting to dine al fresco. Ask for energy saving glass to be included in the doors if you want to maximise your energy savings.
Available at a low-cost and a low-maintenance material...
Customers regularly specify that their new French doors are crafted from UPVC and there are three major factors behind that decision – the inexpensiveness of UPVC and its thermal efficient and weather-resistant qualities. The exceptional standard of thermal efficiency offered by a UPVC French door will keep your energy bills down and also help to heat the respective area.
Our textured woodgrain and smooth surface finishes are on an equal footing...
Just a few years ago, you had a very limited choice of colours for UPVC doors, but the total opposite is true nowadays. Mid Wales uses a special paint colouring technique to develop our eclectic and varied colour palette. Along with timeless colours like White, Whitegrain, Cream, Black, Grey and Irish Oak, we also offer customers fast-emerging favourites such as Chartwell Green, and a host of other sparkling finishes.
You won't find a more modern looking door...
It doesn't take a genius to work out that aluminium French doors look entirely different to UPVC French doors, primarily because of the slenderness of the frames, and wealth of glass within each door. You will have one of the coolest looking homes in the neighbourhood after the installation of aluminium French doors, no matter where you decide to have them placed.
The intricate contour on the external side of the frame is practically identical to the effect present on a traditional timber door. What emphasises the contour is the powder-coated finish applied to the frames.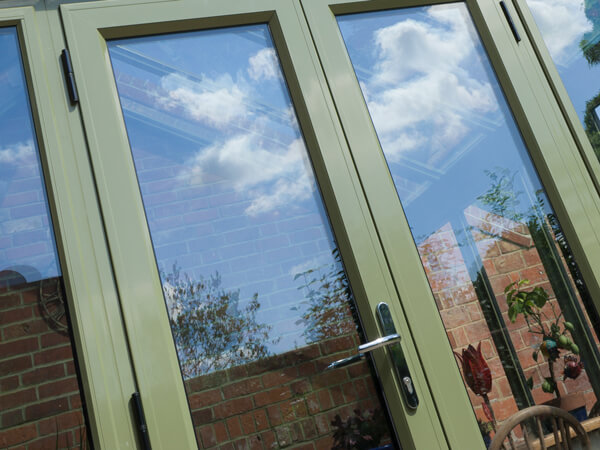 Try a fade-resistant, high-quality aluminium finish...
It's difficult to avert our eyes from our aluminium finishes due to their immense quality, something that takes a huge amount of painstaking detail. We employ an 11-stage powder-coating process with every single one of our aluminium finishes, which demonstrates why they're all incredibly impressive. Sublimation is another colouring method we are experienced in if you want a contemporary aluminium woodgrain in Rosewood, Oak or Walnut to emulate the appearance of traditional wood.
REQUEST YOUR FREE DOOR QUOTE
Simply fill in your details for your free, no obligation quotation, and click "Get Quote"
NEED MORE INSPIRATION? REQUEST A BROCHURE
Simply select the brochure(s) you would like to browse, fill in your details, and then click 'Download'.
Want to speak with an Advisor? Give us a call on 01686 628650
Our friendly team will be pleased to help with any questions you may have.