The unique hinge design of tilt and turn windows means they can be used in various ways. If you turn the handle once, the top section of the window opens and can be locked into place in this position. This allows you to control how much fresh air enters your home, even when you are out, and all without the worry of security or the weather. Turn the handle again and the side hinge swings into action, enabling the window to be opened fully inward, providing even more ventilation and allowing you to clean the outside of the window quickly and easily.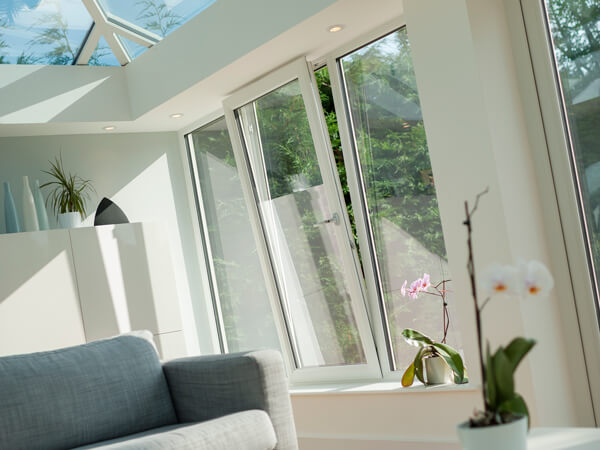 You will find this multi-functionality useful for ventilation, and it also makes cleaning this particular window style extremely easy. In addition, each of our tilt and turn windows has an EXTREME 8-point locking system, A+ rated glass and secure hinges, so you're assured of EXTREME security and outstanding thermal comfort.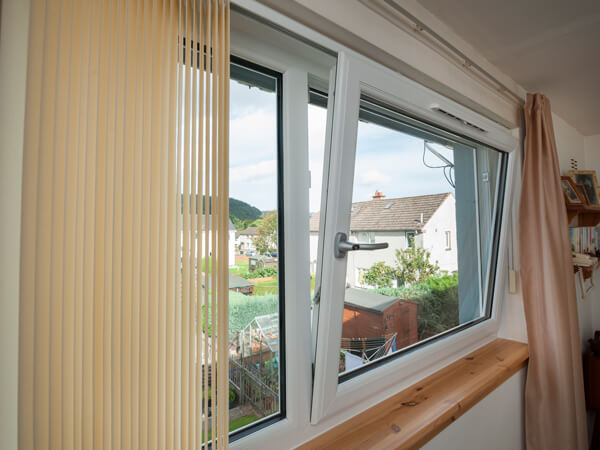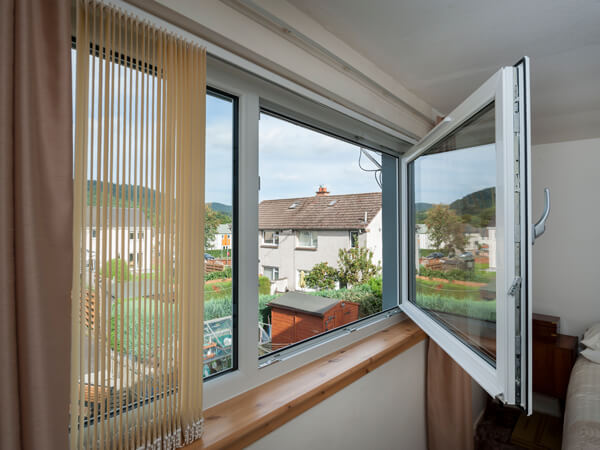 Do your tilt & turn windows provide you with EXTREME protection?
With EXTREME windows fitted around the house, you know that it's in safe hands. Our exclusive EXTREME tilt & turn windows have 11 visible locking points.
EXTREME enhanced security with centre VAULTBOLT and multi cam locking technology.
EXTREME enhanced durability with UNIQUE superglide gearbox ensures smooth operation.
EXTREME enhanced COMPRESSION and acoustics with interlocking hinge bolts and optimum weatherseals.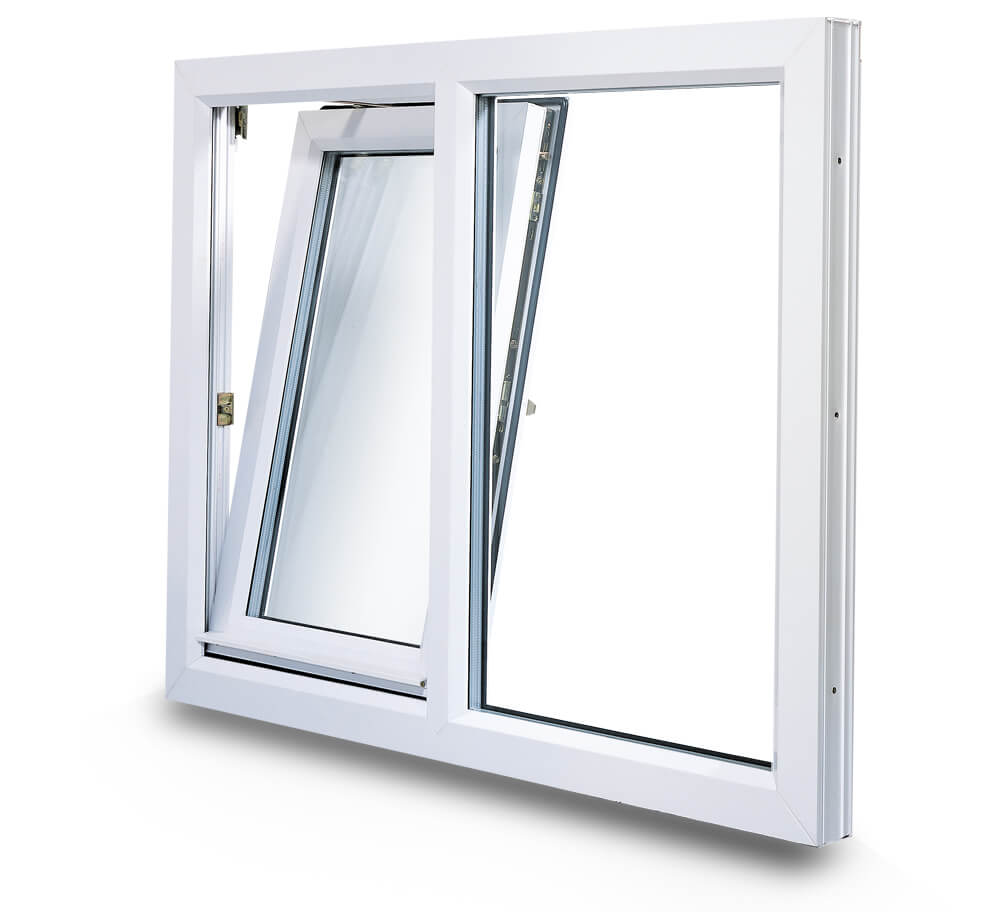 Tilt & Turn Frame
Highly engineered frames, that offer unrivalled thermal efficiency to keep your home comfortably warm, available in a wide variety of colours and has the versatility to create elaborate designs.
Ultimate Glass
High performance next generation glass for superb energy efficiency. With acoustic glass to block out the sound of a bust neighbourhood, or patterned privacy glass for a bathroom, we'll have the perfect solution for you.
Tilt & Turn Gearing
8-point locking system to fix your window sash into the frame at multiple points in one action, for impenetrable airtight security.
Tilt & Turn Handles
Our Tilt & Turn Handles come in a range of colours to suit your home, they're built to last with robust materials and quality finishes.
Versatile Design
Bright and airy, our Tilt & Turn windows are perfect for keeping rooms well ventilated. Turn the handle once to tilt the top of the window inwards, turn further and your whole window will open inwards to permit fresh air to circulate.
Save on heating bills with energy efficient windows from Mid Wales Windows…
Everyone has their own personal reasons for wanting to replace old windows and they should be clear in your mind when shopping for a suitable substitute. Perhaps like many other homeowners, you want to lower the cost of your fuel bills.
If that is your motivation, you're in the right place. Once our modern windows are installed, you will enjoy a warmer home that is cheaper to heat.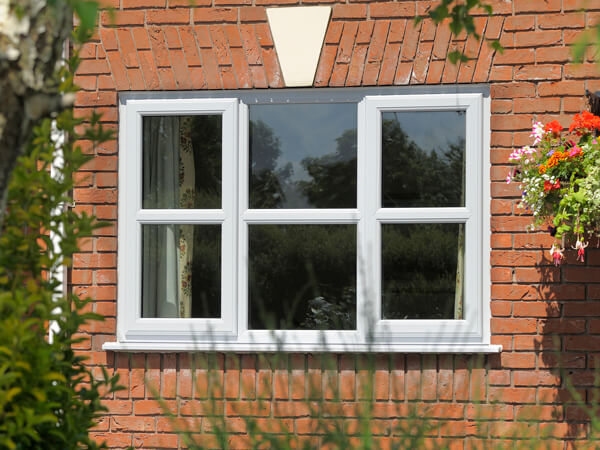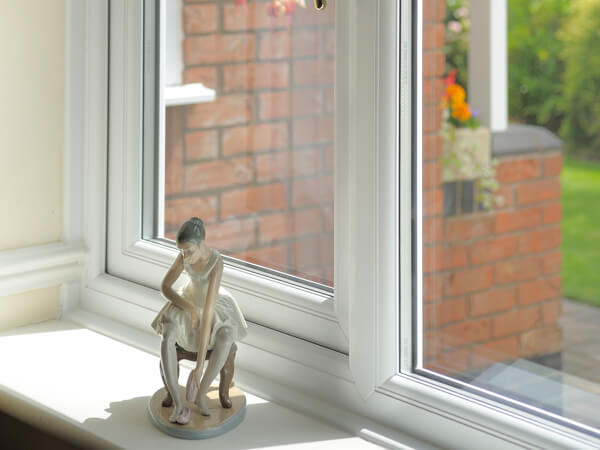 PERSONALISE THE DESIGN
After picking out the perfect window style, your next task is to accessorise the window, and Mid Wales has an extensive range of finishes, glazing and hardware for you to closely examine.
Dual-coloured finishes…
We have many colour finishes designed to complement your property. From white to Chartwell Green, these classic and trending colour finishes are compatible with our luxurious replacement windows.
We will also give you the option of finishing the design externally and internally if a dual-finish is what will work best.
Ask us about our privacy glazing option…
You should never feel like you're being watched by people on the outside when going about your business indoors. If that's how it sometimes feels, we suggest that you request the addition of privacy glazing to any windows you buy from Mid Wales Windows. Privacy glass will limit what can be seen through the windows, and can come provided as part of a double or triple glazed window unit. Whether you choose privacy or clear, we'll help you find the perfect glass.
Our craftspeople have perfected the handles…
Hardware will crop up in your conversations with our consultants when you're looking to buy windows from Mid Wales. Our handles are available in countless styles and finishes, and they will prove to be as robust as the frames they're affixed to.
Take the opportunity to personalise your windows with secure handles in your chosen style.
REQUEST YOUR FREE QUOTE
Simply fill in your details for your free, no obligation quotation, and click "Get Quote"
NEED MORE INSPIRATION? REQUEST A BROCHURE
Simply select the brochure(s) you would like to browse, fill in your details, and then click 'Download'.
Want to speak with an Advisor? Give us a call on 01686 628650
Our friendly team will be pleased to help with any questions you may have.