Mid Wales' bi-Folding doors are available in a variety of designs, sizes, styles and colours. Easy to install, our bi-folding doors are a great way of quickly changing how you use your home. Contact Mid Wales to integrate bi-folding doors between two settings. Designed and manufactured to your own specific requirements, we will give you bespoke Bi-Folding doors that will transform your home.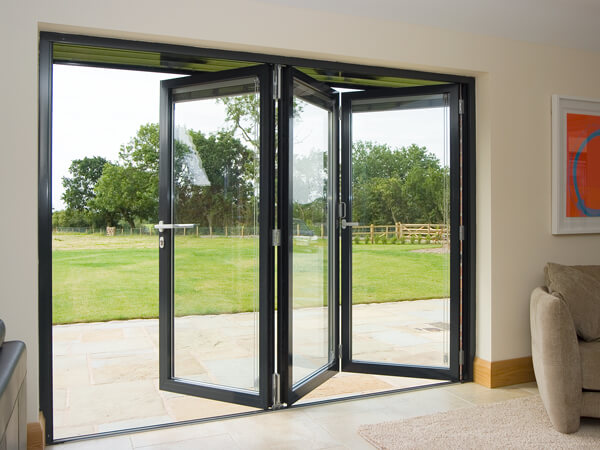 Thanks to modern engineering and materials, these doors are incredibly light and easy to use, needing nothing more than a gentle push to be quickly opened and closed. Bi-folding doors have an unbelievably trim aluminium profile, so even when closed, they will welcome plenty of natural light into your home.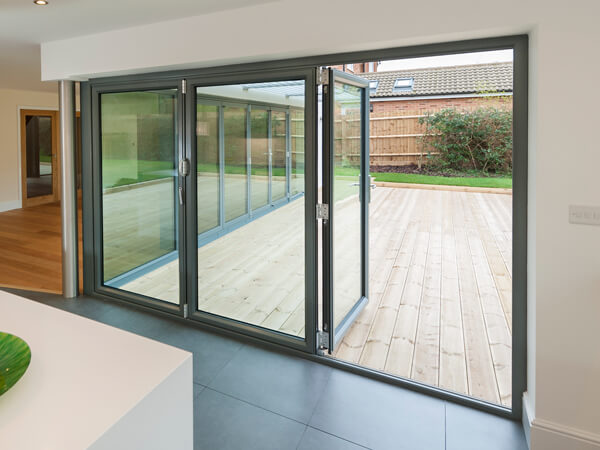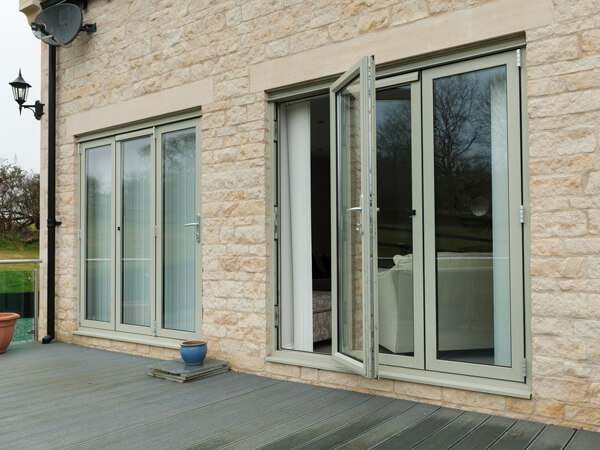 Bi-Fold Doors
To look at a bi-folding door, you would expect to have to put in a good amount of effort to make it move, but that isn't the case. The gliding rollers make the whole process of pushing a bi-fold an effortless task, which is hugely beneficial on those occasions when you want to make a speedy exit or entrance indoors or outdoors.
For more insight into these beautiful doors, click on the various hotspots opposite.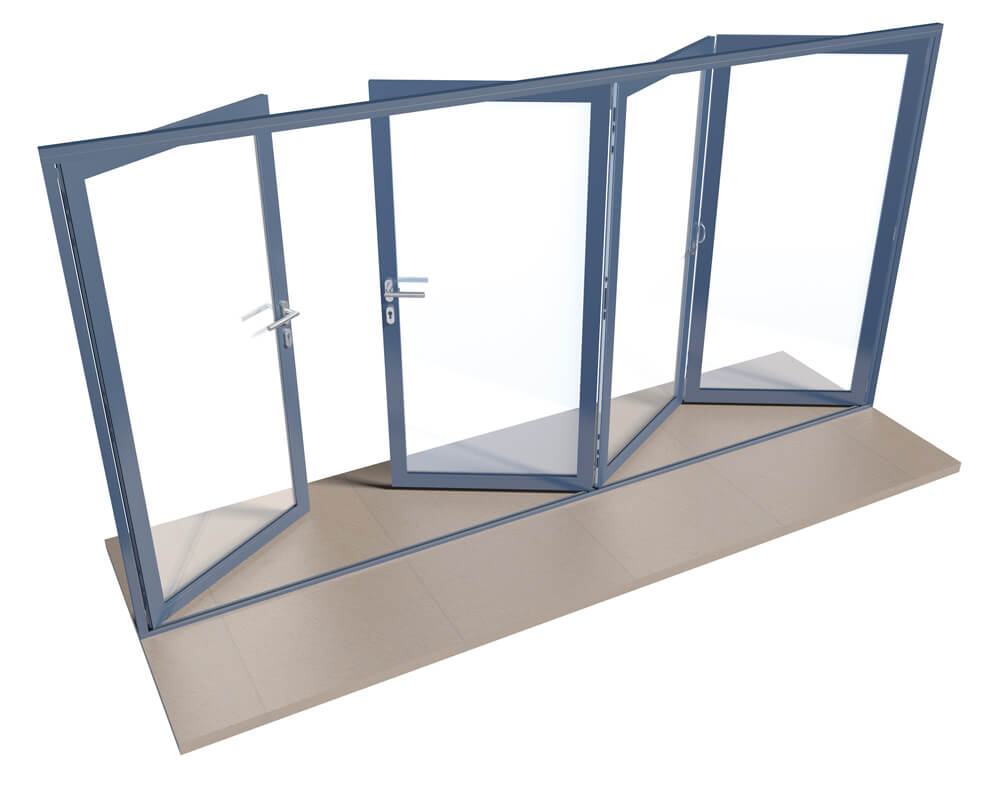 Bi-Fold Frame
Our Bi-Fold frames boast maximum warmth and security and slide effortlessly to the side to make the most of your space. You can even incorporate a discreet passenger door for everyday entry.
Bi-Fold hardware
Our Bi-Fold Door Handles come in a range of colours to suit your home, they're built to last with robust materials and quality finishes.
Bi-Fold Easy Glide System
The sliding operation of a bi-folding door relies on a high-quality stainless-steel track on which quad rollers, which are fitted to the door leafs, glide along in elegant fashion. The same quad rollers are fitted with a small brush on one end to keep the tracks free of dust and dirt.
Bi-Fold Low Threshold
Low level thresholds increase the ease of access for everyone involved. An optional outer and inner ramp can be added on to the threshold to further enhance the accessibility for wheelchair users.
Bi-folding doors will help you feel safe at home...
We incorporate a multi-point locking system into each of our bi-folding doors. The ultra-secure lock engages at several different points, and in several different directions, into a very tough lock keep. When it does so, it keeps the door sash firmly fixed to the door frame.
The double or triple glazed units are ridiculously hard to break, each door is designed to be as secure as possible to keep your home safe. Cylinder locks are within the high security master handles too as a further deterrent to thieves.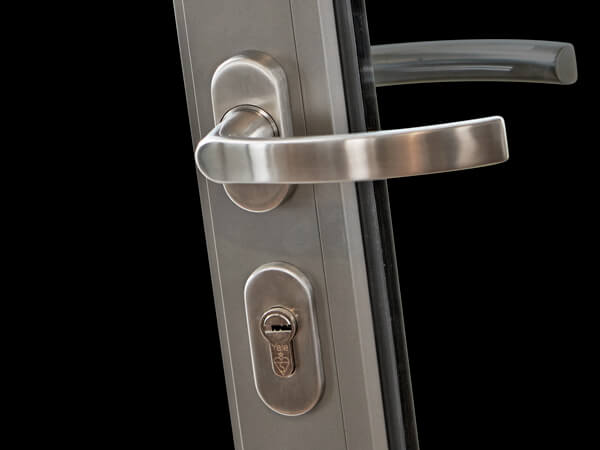 COMPLETE THE DESIGN IN STYLE
Everything about a bi-fold screams of class, particularly the sleekness of the aluminium frames and vast glazed panes. You will need to select the colour finish, glazing and hardware to complete the design.
The smartness of a bi-folding door makes it completely distinguishable from any basic door opening…
The practicality of a bi-folding door will become apparent from the moment the final installation has been completed, and this applies to designs of all sizes, whether inclusive of two doors or the maximum of seven.
Everyone will find a favourite finish in our broad colour palette...
You're not just spoilt for choice when it comes to configurations as we can also present you with multiple colour options. Our sublimated woodgrain finishes (Walnut, Rosewood and Oak) are very well-received by those wanting something similar to a timber effect, and we also have various powder-coated finishes available.
If you would like two separate colours internally and externally, you have full licence to ask for a dual-coloured bi-folding door.
Our handles make a bi-fold simple to manoeuvre...
Certain handles suit certain bi-folding door configurations better than others, and there are three different handles available at Mid Wales. A pass door and integrated French doors require a master handle where the cylinder lock will be housed to help the multi-point locking system engage when you close the bi-folding door.
Each section of the bi-folding door will need a D-handle and intermediate handle. An intermediate handle releases the folding panes from the door frame when the door is opened and re-engages them when it's closed. A D-handle is used to push or pull the folding panes as appropriate. Within our hardware range we offer both contemporary and traditional master handles which are colour matched by the intermediate and D-handles.
REQUEST YOUR FREE DOOR QUOTE
Simply fill in your details for your free, no obligation quotation, and click "Get Quote"
NEED MORE INSPIRATION? REQUEST A BROCHURE
Simply select the brochure(s) you would like to browse, fill in your details, and then click 'Download'.
Want to speak with an Advisor? Give us a call on 01686 628650
Our friendly team will be pleased to help with any questions you may have.