This installation is, without a doubt, one of our most impressive. The lantern roof demands attention most, but the bi-folding doors are not far behind in showcasing some serious style and substance on this structure. You can hear the gasps of excitement when their loved ones first come round to enjoy the orangery with the occupants. Even the dog gives an approving bark from inside! However, at night is when the interior of the orangery really gets to shine, with an enticing atmosphere created by the carefully chosen LED lighting.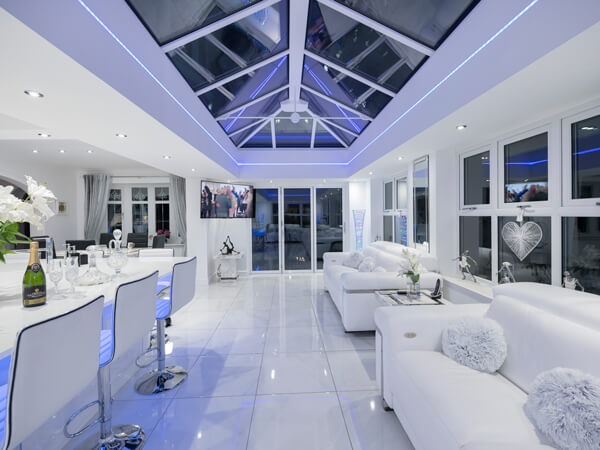 It's only natural to feel a little envious when you peek through the bi-folding doors to admire the inside of this orangery through the bi-folding door, especially with the slender sightlines granted by the doors. You only need expend minimal effort to reposition the bi-folds, and watching them float as smoothly into place as they do is an extremely pleasing experience. Their light, aluminium structure is what makes them so easy to manoeuvre. The occupants never tire of going into their orangery since employing Mid Wales to do their best work. To be honest, the other rooms in the house are becoming underused, because with an orangery like this in your home, why would you want to spend much time anywhere else?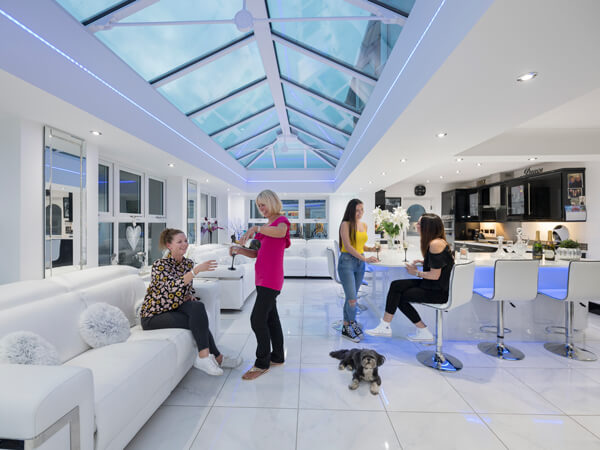 REQUEST YOUR FREE QUOTE
Simply fill in your details for your free, no obligation quotation, and click "Get Quote"
NEED MORE INSPIRATION? REQUEST A BROCHURE
Simply select the brochure(s) you would like to browse, fill in your details, and then click 'Download'.
INSPIRED? GET A FREE QUOTE TODAY!
Simply fill in your details for your free, no obligation quotation, and click "Get Quote"
Want to speak with an Advisor? Give us a call on 01686 628650
Our friendly team will be pleased to help with any questions you may have.