For those unfamiliar with the difference between an orangery and a conservatory, you can easily tell them apart by how much glazing is featured in the extension – conservatories incorporate more glass. So those of you who identified this extension as an orangery would be correct. Only an orangery could support such a large glass roof. Put together, the windows, roof and patio doors are able to make the interior of an orangery the ideal indoor space, able to accommodate all kinds of activities, from reading, gaming and watching films to little ones playing with toys.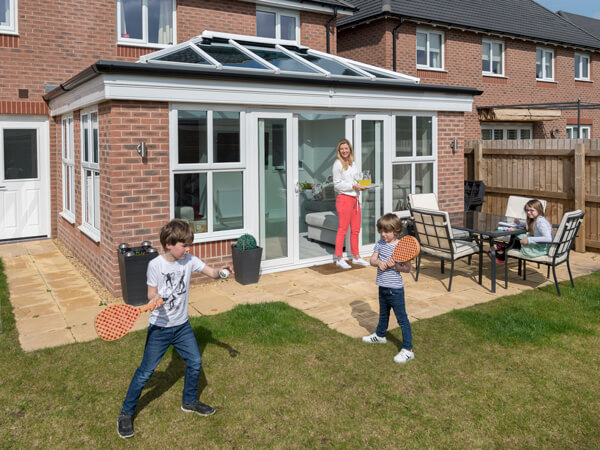 These occupants were aiming to encourage the younger family members to play more outdoors while the weather is good, and so requested patio doors be included in the designs. The end result came with stylish side panels while the elegant patio doors open up in such a way to blend the space inside with the garden outside, providing an easy way for the children to move from indoors to the garden to pick up a ball for a game of catch or grab a racket to play swingball. From the garden, when admiring the orangery, you can truly appreciate the attention to detail applied to each aspect of this extension. It may look like a mammoth task to fix such a vast roof into the right place, but as professionals, Mid Wales did it with ease. Why not get one of your own?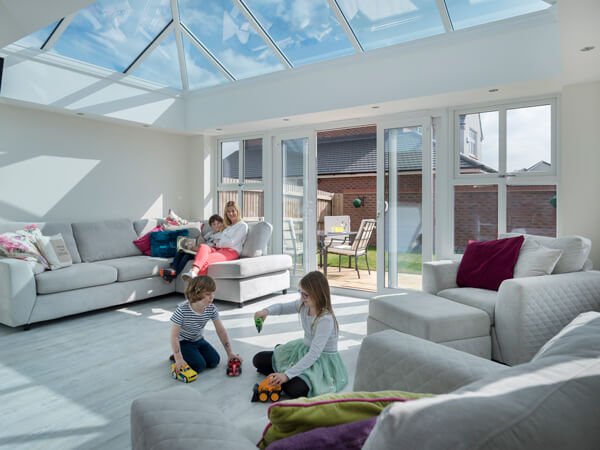 REQUEST YOUR FREE QUOTE
Simply fill in your details for your free, no obligation quotation, and click "Get Quote"
NEED MORE INSPIRATION? REQUEST A BROCHURE
Simply select the brochure(s) you would like to browse, fill in your details, and then click 'Download'.
INSPIRED? GET A FREE QUOTE TODAY!
Simply fill in your details for your free, no obligation quotation, and click "Get Quote"
Want to speak with an Advisor? Give us a call on 01686 628650
Our friendly team will be pleased to help with any questions you may have.