Not everyone gets to own a garden, so if you have one of your own, you'll want to enjoy it at every opportunity you can. With a conservatory, you can admire the garden and reap the benefits of a calming view from inside the comfort of your home. These occupants knew this well, and for this reason chose to install ceiling to floor glass so they could observe the garden they love so much at any time and during any weather. Plus, with glass also incorporated into the roof, the space inside remains lovely and bright all day. Lastly, to really get the most from their outside space they chose French doors, to make their garden as accessible as possible.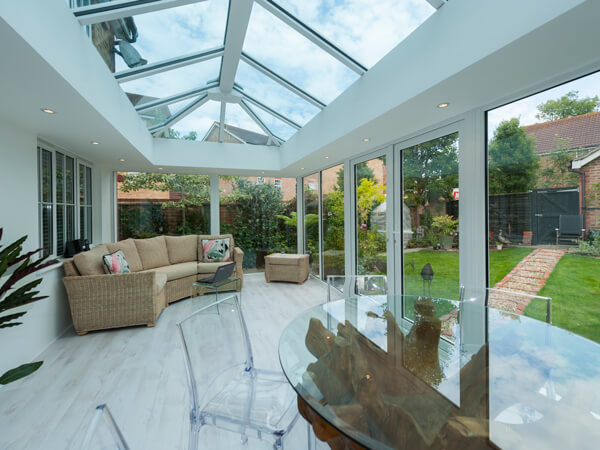 Both day and night, the occupants take advantage of the space granted to them by the conservatory, relaxing, dining and even working there. When night falls, the action needn't stop, due to the energy- efficient spotlights installed in the internal pelmet. These lights illuminate the conservatory at night, and are cheap and convenient to replace with fresh bulbs. The addition of an internal pelmet was also allowed the installation of eight full-length glass panels in the extension. Despite the glass-heavy nature of the design, there's no need to be worried about the interior overheating during summer, as it has an extremely low U-value, which means the space stays cool even when the temperature outside rises.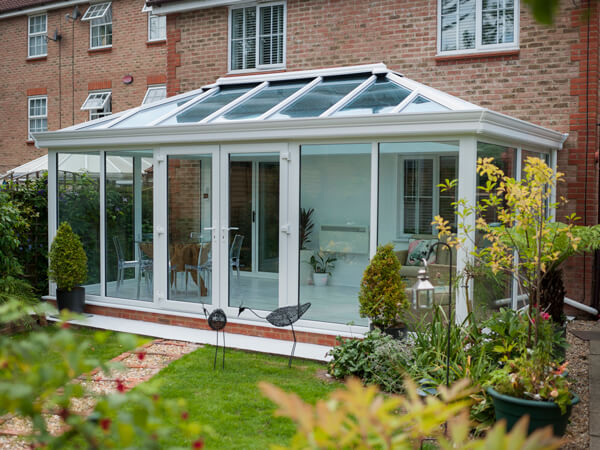 REQUEST YOUR FREE QUOTE
Simply fill in your details for your free, no obligation quotation, and click "Get Quote"
NEED MORE INSPIRATION? REQUEST A BROCHURE
Simply select the brochure(s) you would like to browse, fill in your details, and then click 'Download'.
INSPIRED? GET A FREE QUOTE TODAY!
Simply fill in your details for your free, no obligation quotation, and click "Get Quote"
Want to speak with an Advisor? Give us a call on 01686 628650
Our friendly team will be pleased to help with any questions you may have.